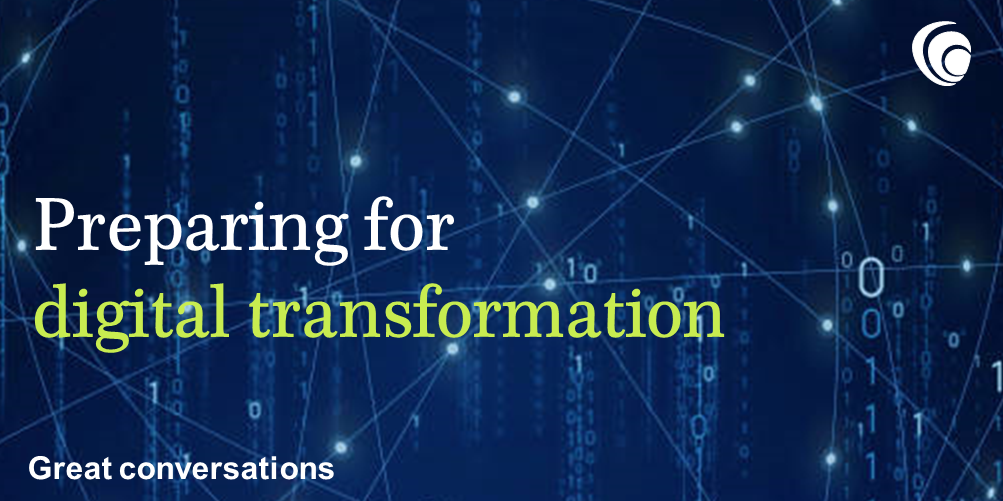 Preparing for digital transformation
Digital transformation has become almost essential for business success and sustainability, and the pandemic has only made the need for technological integration in operations even more vital. Though it is clear that incorporating technology in your business is important, it is not just a simple matter of buying new computers or software. As the name implies, digital transformation involves reimagining how you do things in your business using digital solutions, and this requires skilful and deliberate execution to implement successfully. But before you get to the execution phase, for your digital transformation to succeed and give you a positive return on investment you first need to plan and prepare.
Preparing your business for digital transformation, whether you are starting from scratch or expanding existing digital integration, will help ensure a smooth and successful transition. The first step in the preparation stage is to figure out how far you need to take your transformation. With the expansive and still growing technological innovations available, it may sometimes be tempting to adopt all the latest and coolest digital solutions out there, but if you want to get the best return possible you have to invest your resources into the right solutions for your business.
Understanding what you need requires that you know what you want to achieve with the transformation. Typically, goals will be around wanting to keep up with and outdo competition, improving efficiency, increasing revenue or lowering costs. By clearly defining your goals you can narrow down your options. When choosing from your short list of solutions it is then also key to take into consideration the industry you operate in, what your competitors are using, your targets market's needs and behaviour, and your company culture, among other factors; and with this knowledge in hand you can find, or have a team develop, solutions with the specifications that work for you.
The technology you choose to adopt only makes up part of your digital transformation journey, because do not forget that this technology still has to be operated by your people. Acceptance and positive employee engagement in the digital transformation process will determine whether your transformation succeeds or fails. Digital transformation will bring about a lot of changes and disrupt the status quo in many ways, so in order to keep your team motivated and moving in the same direction it is key to communicate effectively and transparently what the organisation aims to achieve. The extent of resistance you may meet will depend on factors such as your company culture so make the effort to understand your people and then you can figure out the best way to implement your transformation, whether it is in one fell swoop or through a phased approach.
Another way of ensuring your team is fully on board and will make the most of the digital solutions being introduced is to train and re-skill your employees. You will not get much benefit from newly adopted technology if your people do not know how to use it, and lack of understanding of how the solutions work can cause frustration and negatively impact employee morale.
Preparing for digital transformation, whether it is just adding a few new systems or a complete technological overhaul, is a multifaceted process that requires extensive planning for successful implementation. The process can be daunting, but it doesn't have to be. As is the case with most things, if start the process right the rest of the journey tends to be a lot smoother, so it may be worth considering getting an ally with decades of industry experience and deep technical resources, like Baker Tilly Digital, to back and guide you. The future holds many uncertainties but with the right partners who are as invested in your success as you are, you can move forward fearlessly with assurance.