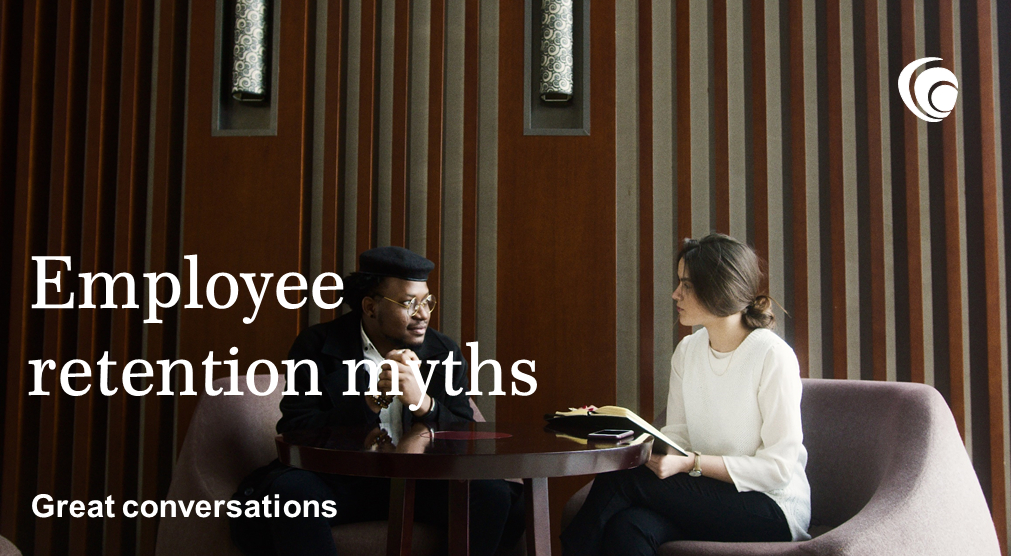 Employee retention myths
Keeping good talent within your company can significantly contribute to the success of your business. While many employers acknowledge and talk about the importance of employee retention, it seems few actually take the time to understand the real driving forces behind it. A lot of sweeping assumptions are made about what will encourage employees to continue with their current employer and, unfortunately, many of those assumptions are misguided and can result in ineffective employee retention strategies. Your people are your business's most important asset so it is vital that you truly understand them, and if you are one of many people who believe in any of the following common myths about retention you may be putting your efforts towards the wrong things to keep your employees happy.
Arguably the most common myth is, if employees are rewarded financially then they will stay. Particularly within Southern Africa where economic conditions are not great, it is understandable why employers assume more pay equals happier employees. To some degree this is true, but you have to remember that all jobs compensate workers and you are likely not the only employer willing to pay what you do. Money can incentivise employees to do their job today, however, it seldom encourages them to stay purely on that basis. It is not unheard of for people to leave their jobs for a lower paying one where their other needs are met. If the work environment is not fulfilling your employees' other needs, money will keep them around only for as long as they need to be there; when another opportunity presents itself, they will likely leave.
The second myth employers mistakenly buy into is that employees leave because they cannot handle the pressure. Employers sometimes tend to underestimate their employees' capabilities and capacity. While in some cases high workloads can cause stress, employees are typically quite resilient and willing to take on the load. Sometimes, in fact, employees leave because they are not given enough responsibility. This is not to say you should overload your workers but do not assume that giving them a lot of responsibility will chase them away either, it is sometimes the opposite.
The third myth businesses believe is that high turnover is due to what happens after the employee starts working, however, sometimes the real issue may lie in what happens before they even begin – i.e. in the recruitment process. Not every employee who leaves wants more money or dislikes their supervisor, sometimes they are just the wrong fit. When recruiting, finding the right employee goes beyond just looking at their skills, you also need to consider other factors such as their personality or their work style. These factors, that may not show through their resume, can be a key predictor of the likelihood of an employee sticking around. As an organisation you need to understand yourself in order to understand who you should be hiring.
There are many other misinformed beliefs that employers need to be conscious of when it comes to employee retention. It hardly ever just comes down to one thing, effective retention strategies have to take a number of factors into consideration. Do not fall prey to your own biases and risk losing valuable members of your team; invest in learning what makes your people tick and why they should or would continue to choose you as their employer of choice as opposed to choosing you as an employer of convenience.